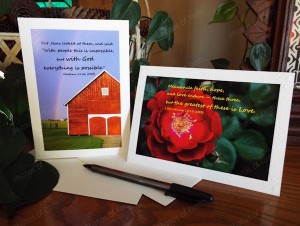 Photo Cards
Each Photo Card is a finished size of 5×7 and has a 4×6 photo added to the front of the card, leaving a small border around the photograph. The card is blank inside for you to write your own message. The card stock is a soft white, matte finish with a small debossed pattern around the border and a slight texture running throughout the card. It is easy to write on. Each card comes with its own matching envelope for mailing.
Photo Magnets
Each Photo Magnet contains a 4×6 photo in a sleeve with a small white border on all four sizes of the photo. The magnet is a full-backed magnet and will stick to most metal surfaces. It is UV coated which helps protect the photo from sunlight and fluorescent lighting.
Prints
The 5×7 and 8×10 prints are printed on quality matte-finish paper. Frames are not included so that you may frame them to match your decor. They are standard sizes for ease of framing.
Photographs
All photographs were taken by Janelle Becker.
Versions of the Bible
The versions of the Bible used by Photos Of Faith are the Open English Bible, which is a copyright-free version of the Bible and the King James Version which is Public Domain.
Special Requests
Photos Of Faith is not able to fulfill custom requests of specific verses with different photographs at this time.
Timetable
Please allow 5-7 business days for products to ship as each item is custom made. Every effort will be made to ship products as soon as possible. 5×7 Prints and 8×10 Prints are not stocked items.